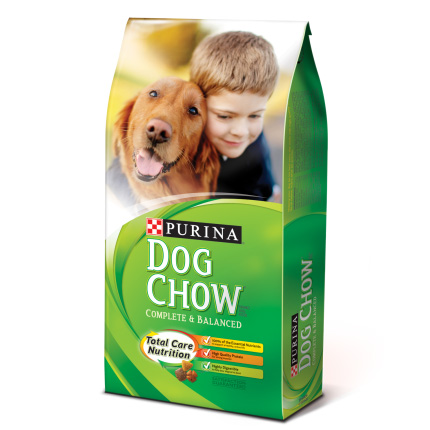 Purina
®

Dog Chow

®

Brand Dog Food Complete & Balanced

Made with whole grains, high quality sources of protein, and 23 vitamins and minerals including antioxidants. Every bowl contains a great taste and texture, plus 100% of the essential nutrients your dog needs to help him stay healthy and happy day after day.

Total Care Benefits:
Supports a Healthy, Active Life

Supports Everyday Resilience

Supports Healthy Teeth and Bones
Our Nutrition
100% of the Essential Nutrients
to help support a healthy, active life
High Quality Protein
for strong muscles
Highly digestible
to help your dog be his best
Our Ingredients:
This formula provides total care nutrition for your dog.
View Our Ingredient Statement »
Learn About Our Ingredients »