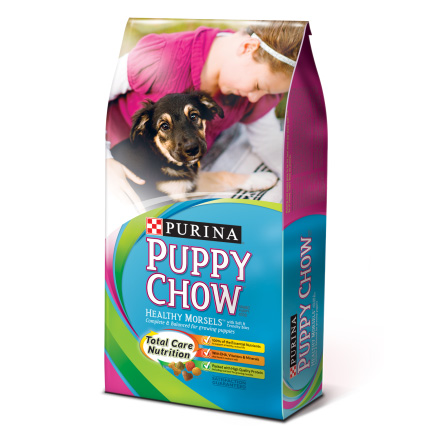 Purina
®

Puppy Chow

®

Brand Puppy Food Healthy Morsels

™

for Growing Puppies
with Soft & Crunchy Bites Complete & Balanced for Growing Puppies
Made with high quality ingredients including whole grains, real beef, vegetable accents and 23 vitamins and minerals to help lay the foundation for a healthy, active life. Every bowl contains a great tasting variety of soft & crunchy bites to help keep your puppy happy and healthy day after day.
Total Care Benefits:
Supports Healthy Growth & Development

Supports Everyday Resilience

Highly Digestible
Our Nutrition
100% of the Essential Nutrients
to help support a healthy, active life
With DHA, Vitamins & Minerals
also found in mothers' milk
Packed with High Quality Protein
including real beef for growing muscles
Our Ingredients:
This formula provides total care nutrition for your puppy.
View Our Ingredient Statement »
Learn About Our Ingredients »