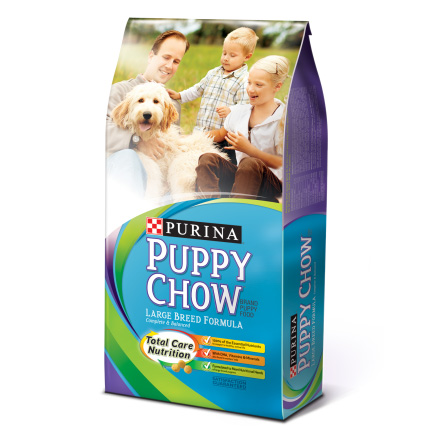 Purina
®

Puppy Chow

®

Brand Puppy Food Large Breed Formula
Complete & Balanced
This product is specially formulated for the unique nutritional needs of large breed puppies, targeting areas important to their proper growth and development: healthy growth rate and bones & joints. Made with high quality ingredients that provide DHA and essential nutrients also found in mothers' milk, antioxidants and an appropriate balance of protein to fat for your large breed puppy. Every bowl contains a great taste your puppy will love.
Total Care Benefits:
Supports Healthy Brain & Vision Development

Supports Growing Muscles

Supports Everyday Resilience
Our Nutrition
100% of the Essential Nutrients
to help support a healthy, active life
With DHA, Vitamins & Minerals
also found in mothers' milk
Formulated to Meet Nutritional Needs
of large breed puppies
Our Ingredients:
This formula provides total care nutrition for your puppy.
View Our Ingredient Statement »
Learn About Our Ingredients »
Feeding Your Dog
Recommended Feeding:
(Using a standard 8 oz measuring cup)
3 to 4½
This product is not appropriate for females in stages of gestation and lactation.