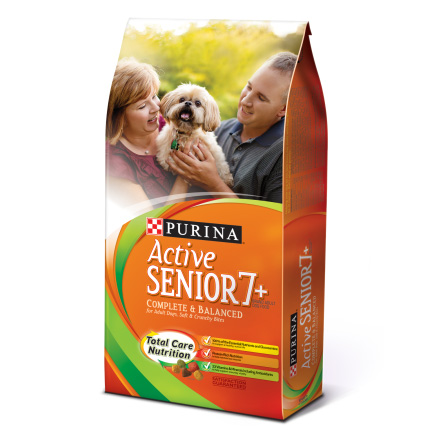 Purina
®

Active Senior 7+ Brand Adult Dog Food
Complete & Balanced for Adult Dogs Soft & Crunchy Bites
Specially formulated for your mature dog's needs, with a high level of protein, antioxidants and natural sources of glucosamine. Every bowl contains easy-to-chew, soft & crunchy bites to help keep your dog happy and healthy day after day..
Total Care Benefits:
Support Everyday Vitality

Supports Immune Health

Supports Healthy Bones & Joints
Our Nutrition
100% of the Essential Nutrients and Glucosamine
to help support a healthy, active life
Protein-Rich Nutrition
to help maintain lean muscles
23 Vitamins & Minerals Including Antioxidants
to help support everyday vitality
Our Ingredients:
This formula provides total care nutrition for your dog.
View Our Ingredient Statement »
Learn About Our Ingredients »
Feeding Your Dog
Recommended Feeding:
(Using a standard 8 oz measuring cup)
3 to 4½
This product is not appropriate for females in stages of gestation and lactation.